Wednesday, 01 February 2023
Here's to the contemporary era, where every brand, be it individual or an organisation must take advantage of public relations (PR) and publicity to sell their brand and what it represents. One of the tactics you can use to accomplish this mission is through media interviews, it helps to put a human connection to the brand.
A media interview is a positive opportunity, whether planned in advance or catches you off guard in public. You are the focus of the interview and any unique insight or knowledge you share gives you an edge of credibility that can serve your business or personality.
Heard of the quote, "The questions don't do the damage. Only the answers do" by Sam Donaldson.? This tells you that anything you say during a media interview is what will be reported to represent your brand and business.
Successful media interviews are 95% preparation, 5% improvisation If you are to emerge successful from media interviews, you need to consider.
Extensive preparation
A clear idea of what you want to say and how you will say it
An ability to take control rather than just stick rigidly to the journalist's line of questioning.
Keep in mind to sound natural, with succinct memorable sound and take control. If you have interesting messages or answers you can subtly but confidently move from the journalist's agenda to your own.
Below are some detailed tips that might be beneficial to you or your organisation to ace your media interviews.
Define your goal & messaging: Defining a goal larger than the interview itself will help you get motivated and stay on track. Your messages should be positive and impactful and should resonate with your audience.
Anticipate the Journalist's strategy: Every journalist and media house have peculiar interview styles. If you have a planned interview, your PR or communication person assist you with a brief about the journalist, media house or the particular show. Watch excerpts of interviews with the particular journalist to build your confidence.
Think before you speak: Journalists work on the basis that anything you say can be reported – so it's up to you to set the rules! However, when it comes to "Off the Record" – journalists won't always abide by this rule! If you don't want it reported – don't say it!
Cover your agenda: Preparation is essential, and this must include an understanding of why the interview is taking place, so you should ask the journalist a couple of questions before the interview. Make sure you're succinct and detailed when given the opportunity to talk about your organisation or personality. This is your opportunity to tell the brand experience to stakeholders.
Never lose your cool: If the interview is not going your way, it's crucial to remain calm. Do not take anything personal, no matter how hard a reporter might try to poke you into answering uncomfortable questions or lead the conversation in a direction that will provoke you into giving newsworthy sound bites- remember you're always on-record.
Be on time: If your interview is either in a studio or virtual, you need to be there on time, this gives you an opportunity to familiarize yourself with the journalist or presenter and other crew members, it also provides and opportunity to have relevant discussions that will guide your conversation.
Emphasise Your Key Message at the End: Take advantage of the frequently asked "Is there anything else you'd like to add?" question at the end of an interview to emphasize your key messages. People pay keen attention to the beginning and end of every conversation or interview.
After the interview, if an error is made, consider whether it would be wise to ask for a correction if it wasn't live. If it was, you can issue a statement to the media house for correction and they will be glad to help.
Make your brand presence count in 2023 through strategic media partnership.
Submitted: This article was written by Phoebe Adoley Pappoe. PR Consultant, Abjel Communications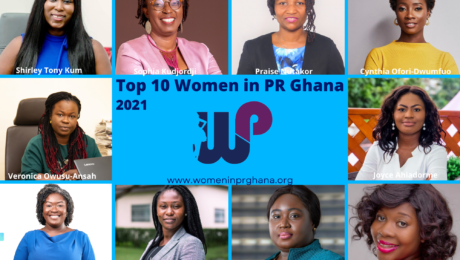 The seeming recovery process from a global pandemic such as COVID-19 has been quite a challenge for many organizations and industry professionals.
For Public Relations practitioners, organizations all over the world are constantly relying on them to showcase the value their organisations are providing towards their internal and external stakeholders.
To be successful, PR professionals are to demonstrate their value, agility, and digital savviness in order to project their contribution to the industry as well as their individual organisations.
Since our first release of the Top 10 Women in PR list in 2017, we have taken up the task each year to closely monitor the journey of women Public Relations practitioners in Ghana to find out how these women are projecting the profession and at the same time inspiring many young ones to aspire for excellence.
The main objective behind these listings is not to just celebrate PR women but to continue to highlight the growing importance of female presence in leadership and by way of our contribution to achieving gender equality in the PR industry.
In this 2021 edition of our Top 10 Women in PR Ghana, we added a new element which allowed the PR community to nominate their top PR women for the year 2021 via google forms. We received entries after which a 3-member jury was tasked to review and shortlist the entries based on the below criteria:
Must be working or practicing public relations or communications with at least 6 years' experience and above
Must have planned and executed successful campaigns for their organizations and or clients
Must have used various mediums (traditional and new media) to share their works as Public Relations Professionals
Must have been recognized through nominations and awards either on their own behalf or on behalf of their organisations or clients
Must have engaged in speaking opportunities
Must have mentored, educated, and supported other PR professionals
Must have led and champion campaigns that have informed the general public about public relations in Ghana and beyond
Here is our top 10 PR Women in Ghana for the year 2021:
Shirley Tony Kum
Sophia Kudjordji
Praise Nutakor
Cynthia Ofori Dwumfuo
Veronica Ofosuhemaa Owusu-Ansah
Joyce Ahiadorme
Afia Drah
Mina Okuru
Josephine Appiah-Nyamekye Sanny
Akosua Kwafo Ogyiri
Shirley Tony Kum (Corporate Communications Manager, Vivo Energy Ghana)
Shirley is that light that keeps shinning at all corners. The year 2021 has been another remarkable and impactful career journey for Shirley and her organization as reflected in their projects, campaigns, and recognitions.
From driving their National Road Safety Campaign for Transporters dubbed 'Stop, Think & Drive' to launching Vivo Energy Community Digital Literacy Project and IWD Event, we can appreciate the strategic role of the communications function at Vivo Energy Ghana.
Her works also highlight several activities targeted at their employees, customers, communities, and other stakeholders.
Shirley has led Vivo Energy Ghana to win a number of awards and recognition including Vivo Energy Ghana being inducted into the Hall of Fame for excellence in CSR at the 2021 edition of the Ghana Oil and Gas Awards, their #roadsafety campaign dubbed Stop, Think, & Drive adjudged winner of the Reputation Award Category across the Vivo Energy Group, adjudged most promising organization in Learning and Development Practice at the 2021 HR Focus Awards, winning the Employee Communications Category of the 2020 #SABRE Awards at the African Public Relations Association (APRA) Conference in September 2021.
As an all-rounder senior communications executive, Shirley keeps spreading her light through mentorship and speaking engagements. Shirley has secured speaking engagements at a number of events and mentored many others including speaking at the Today's Woman Empowerment Summit, Africa Corporate Lounge, UKGCC press Freedom Day roundtable event, Agrihouse Foundation AG-STUD Africa Career Guidance and Mentorship Dialogue Bootcamp amongst several others.
She was appointed as a member of the Governing Council of the African University College of Communications and continues to serve as the Honorary Secretary of the Institute of Public Relations, Ghana.
Shirley has a solid track record of effectively managing the company's reputation by demonstrating a deeper understanding of the interrelationships between the PR function and sales growth.
With all these achievements and more in the year 2021, we are proud to name her as one our top 10 women.
Sophia Kudjordji (Group Head, Communications, Jospong Group of Companies)
With several years of experience in the media and communications industry, Sophia continues to remain relevant in the industry. The year 2021 was one that was no different from what we have witnessed in the previous years.
As the Group head of communications, Sophia brings her expertise as a multi-award-winning communications leader with a strong track record of building the function and teams at her organization.
On speaking engagements, and interviews, Sophia always avail herself to  share and inspire. In the year under review, she featured on the Y leaderboard series on YFM,  where she shared inspiring lessons that will help young professionals to hone their leadership skills. She also made apearances on the real show on Metro TV, Obaa Mbo on TV Africa, The Business and Financial Times Newspaper Lifestyle Cover with the title "Sophia Kudjordzi-the making of the Silk and Steel Communications Juggernauts,' The Communication Masterclass and has spoken on a number of events and platforms throughout the year. 
She won the Corporate Communication Professional of the year at the 10th Marketing Awards, and together with her communications team won eight (8) awards at the National Communications Awards in 2021.
Sophia served as a member of The Comms Avenue Mentoring Programme, the Global Women in Public Relations IWD Mentorship Program and has mentored several young PR professionals.
She certainly deserves to be named among our top 10 for continuing to show leadership and encourage more women to aspire for same and more.
Praise Nutakor (Head of Communications and Partnerships, UNDP Ghana)
Praise is a result-driven communications expert in charge of communications strategy development and implementation.
Throughout the year 2021, Praise has actively been supporting the efforts of her organization by equally amplifying information on her social media pages especially on LinkedIn and Facebook. She was awarded by her organization for her outstanding leadership.
As a leadership with outstanding track record, Praise affectionately called the SDG woman, has led multinational projects including the YouthConnect Africa; a youth led conference which brought together over 2000 young delegates with high profiles from across the continent, organized strategic communication training for district assemblies, also led a Sustainable Development Goal (SDG) training for journalists and many more.
She participated in the Global Women in Public Relations International Women's Day Mentorship Program and currently serves as an Advisory Member for Women in PR Ghana.
Praise has great leadership and mentoring skills, and passionate about development communications for change especially the SDG Goals.
Cynthia Ofori-Dwumfuo (Group Head, Marketing and Corporate Affairs, Hollard Ghana)
In the last couple of years, Cynthia has ignited energy and dynamism to how insurance is communicated and marketed in Ghana.
In the year 2021, Cynthia led campaigns and projects for Hollard Group through their streetwise thought leadership platform, the introduction of the Hollardites Women Project 2021, Hollard and Melcom awareness week, H. Insured Webinar Series, the refurbishing of the ICT centre at Nima Cluster of Schools, donation to support the Trust Mother and Child Hospital amongst others.
Under her leadership, her organization won Brand of the year at the Ghana Insurance Awards, adjudged for the second time, Insurance Company (General) of the Year at the Chartered Institute of Marketing Ghana (CIMG) awards, Top award in Africa for Financial Communications, Certificate of Excellence for Employee Communications and Certificate of Excellence for West Africa region at the 2021 SABRE Awards and she was named a judge for gender mainstreaming awards.
On media engagements, Cynthia has projected her voice and expertise via platforms such as YFM, TV3 as well as Newmont Ghana's Gold New Futures for Girls Leadership Camp, Africa Comms Week, Springboard Hangout Women on the go amongst others.
She was listed among 25 remarkable innovators who are addressing the industry's challenges with ingenuity and creativity in the Europe, the Middle East and Africa (EMEA) by Provoke Media. She was also featured on Women In Marketing 2021 by naughtybanana.co.za.
Veronica Ofosuhemaa Owusu-Ansah (Head of Brand Communications and Business Development for Quick Angels Limited & Quick Credit & Investment Micro-Credit Limited)
Veronica is a passionate brand and external relations strategist who has worked in an integrated marketing communication function as well as creating business leads for brands.
She has initiated and led successful campaigns, products and projects that has attracted some award and recognition to brands she worked for.
Veronica has created a strong brand visibility for her organization and also supported in doing same for their CEO's who have be recognized on many platforms and events.
In the year 2021, she was awarded Woman of Excellence, Marketing and Corporate communications and Best Communications team SME category at the National communications awards, adjudged 4th finalist in Multinational/Pan African Positive Role Model, West Africa Awards. Her organization Quick Angels Limited also won emerging brand of the year, Quick Credit & Investment Micro – Credit Ltd won Micro-credit company of the year the Made in Ghana Awards.
She was also a guest on Women in PR Ghana bi-monthly Facebook Live series.
Joyce Ahiadorme (Transformation and Internal Communications Manager, FanMilk- Danone)
Joyce has rich experience in leading tailored initiatives in community and industrial relations management, Government Engagements, PR and Marketing campaigns.
Although her current role is more of internal communications, she still uses her social media platforms to amplify her company's campaigns and initiatives including actively supporting their products such as 'Go Slo, Nutriday and Fan Ice' amongst others. 
She is an enthusiastic champion for the environment, sustainability, women and children empowerment initiatives and this is evident in what she supports and believes in.
She is also passionate about harnessing the docile powers of women which led her to start an initiative called the Girls Goal Getters where she uses her experience and resources to support and mentor other women to set goals, be advocates, and have accountability partners.
She was nominated for the Corporate Communications Professional by the National Communications Awards and appeared on Women in PR Facebook Live series and The Comms Convo Gh.
Joyce is very resourceful, has excellent leadership and mentorship skills and serves as an Advisory member for Women in PR Ghana.
Afia Drah (Communication and Business Development Manager, The Trust Hospital)
Afia is an integrated communications expert with over 13 years of varied experiences spanning, corporate communication and public relations, multimedia, business development, production, and branded content.
Afia brings her experience working in TV, Radio, and the creative agency to bear in all her communications across many channels. She is a storyteller, screenwriter, media and communications content developer and trainer.
Throughout the year 2021, Afia has hosted a number of discussions on social media especially on Clubhouse where she created "Coffee or Tea" with over 1,500 members, Co-host of Comms Conversations GH and also started #TalkingDrahm on Twitter.
Afia is one of the few communications professionals who has created a voice on social media especially on Twitter with amassing over 6k followers. She uses her platform to discuss varied social, professional, and personal issues.
She featured on Women in PR Ghana Facebook Live Series. She is an Accredited member of the Institute of Public Relations, Ghana serving as the Executive council Member, treasurer. She's also a member of Chartered Institute of Public Relations, UK CIPR, and African Public Relations Association (APRA).
Afia is an avid foodie passionate about the food and culinary eco-system.
Mina Okuru Addico (Communications Manager, Ghanaian-German Centre for Jobs, Migration and Reintegration)
Mina is a communications professional with a proven experience and in-depth knowledge in corporate communications and public relations.
She has demonstrable record in employee engagement, media relations, political and public diplomacy, reputation, and crises management.
In her current role as the communications manager with GIZ, Mina leads in the implementation of the Centre's communications and engagement strategy which includes building, maintaining and creating collaborative relations that advance the centre's goals.
Mina is also resourceful and has been of great support to many professionals through mentorship and advisory services. She has featured on The Comms Avenue, Women in PR Ghana Facebook Live Series, etc.
She is a podcaster where she hosts a podcast on migration, employment, diaspora and reintegration.
Josephine Appiah-Nyamekye Sanny (Knowledge Translation Manager, Afrobarometer)
In her capacity as the Knowledge Translation Manager, Josephine translates Afrobarometer's research and analysis into meaningful messages tailored to relevant policy makers and policy advocates.
Josephine is a bilingual communications practitioner credited for several cutting-edge communication strategies across Africa. She continues to play key role in analysis and publication of Afrobarometer findings, and has authored research publications on several themes including youth, migration, media freedom, violent extremism, public service delivery, and democracy.
Her expertise includes data analysis and visualization, stakeholder engagement, government relations, media relations, digital public relations, and issues and crisis management.
She is also an accredited member of the Institute of Public Relations, Ghana and a member of the Chartered Institute of Public Relations UK. She serves as a member of the Executive Council of the Institute of Public Relations Ghana, and is the Chair of the Public Relations and Public Issues Committee."
We call her the numbers woman as she is one of the few women in communications with specialization in that area.
Akosua Kwafo Ogyiri (Communication & Media Manager, WaterAid Ghana)
Akosua Kwafo Ogyiri is a communications professional and digital media strategist with about 10 years industry experience working and consulting for organisations in education, entertainment, aviation, humanitarianism, automobile, banking and finance, education, energy, construction, mining, power generation, FMCG and technology.
She is a great communicator and has good networking and interpersonal skills. She is also a team builder and player with a drive for an initiative.
In the year 2021, Akosua featured on a number of platforms where she shared great insights on her role in communications including speaking on the Communications Masterclass, The Comms Conversation GH, Facebook Live Talk etc
Limitations and Challenges:
As a team, putting together this list has been a herculean task because PR professionals are yet to embrace complete use of digital platforms to showcase their works. Many professionals have still not updated their LinkedIn profile and barely invest in personality PR for themselves.
We observed that there was also very little information found to support many of the entries submitted making it difficult for the jury to make any solid arguments on some of the entries.
Conclusion
Our goal as Women in PR Ghana is to create role models who would inspire the next generation of women in PR to excel as female leaders. To the above listed women in PR, we salute your contribution to this objective and encourage many others to take inspiration.
Future Listings
As another year has started, we would like to encourage PR women to invest more into their personal brand. We hope they would share their works, their story and their journey. This to some extent will help us highlight the many campaigns and projects that we undertake.
Jury Members
Ama Amoah: Communications & Events Senior Specialist, Afreximbank
Millicent Atugubah: Communications Specialist, GRIDCo
Yvette Kuwornu: Development Communications Professional, The World Bank
Faith Senam Ocloo: Founder, Women in PR Ghana
Thursday, 18 November 2021
Women in PR Ghana(WiPR) was founded and registered in May 2017 as a not-for-profit organization and has since its inception been working with the vision to becoming the leading organisation in Ghana that advocates for women and professionalism in Public Relations practice while providing opportunities for women studying and practicing PR and communications
Starting this month, October 2021, Women in PR Ghana will officially launch as a Membership based organization open to female Public Relations Professionals and students on its website.
Membership with Women in PR Ghana offers you great opportunities to connect with like-minded professionals and an extended global community with its affiliate, Global Women in PR. Both registered professionals and students are recognized as members of the WiPR community by being listed and featured on the official WiPR website and social media pages.
Membership also opens you up to networking opportunities, discounted access to WiPR events, speaking opportunities, job opportunity alerts, career guidance from industry experts, skills development, among other phenomenal benefits.
WiPR membership is segmented into four categories using Adinkra symbols: Pempamsie Membership for Students, Nsoromma Membership (Young Star) for recent graduates, Kyemfere Membership (Experienced) for mid-level professionals and Nyansapo Membership (Senior) for professionals with over 16 years experience. The Adinkra Symbols depict the uniqueness and richness of the Ghanaian culture and symbolises the various professional stages each member is in their career.
One time registration is at a flat fee of GHS 250 which includes Registration ( GHS 100 ) & membership fees (GHS 150) for professionals and GHS 100 for students which covers Registration (GHS 50) & Membership Fees (GHS 50). Members will also be expected to pay a yearly membership subscription fee of GHS 150 for professionals and GHS 50 for students.
To register and learn more about WiPR, Membership Benefits: https://womeninprghana.org/wipr-ghana-membership/
Contact Person
Ms. Faith Senam Ocloo
Email: [email protected]/ [email protected]/
Mob: +233 555757881
Facebook: https://www.facebook.com/womeninprghana
Twitter: https://twitter.com/womeninprghana
Instagram: https://www.instagram.com/womeninprghana/
Linkedin: https://www.linkedin.com/company/women-in-pr-ghana/about/